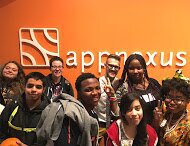 On October 13th, 2015, Live Out Loud held its monthly Behind the Scenes program at AppNexus, a fast growing tech start-up that focuses on ad technology. Members from AppNexus' LGBTQ affinity group, OutNexus, hosted the event for LGBTQ & Ally high school students from NYC.
Students listened intently as OutNexus panelists discussed what it was like to be part of a LGBTQ affinity group at a large company, as well as their struggles with coming out. The panelists also offered career advice, encouraging students to follow their interests and passions, to be themselves, and to aspire to work at a company that allows you to be yourself.
After the panel discussion, students were engaged in a "Personal Brand Vision Board" activity. Students were given the opportunity to work closely with the role models who had just spoken, brainstorming ideas together and creating a vision board they could bring home.
When one student was asked what she thought about her future after attending Behind the Scenes at AppNexus, she said it was "brighter than I thought at first."
Make sure to look out for our next Behind the Scenes at NBC!