If you watched the Game of Thrones season finale Sunday night, you already know that HBO is all about telling compelling stories. (Don't worry – no spoilers in this post!)
What you may not know is that HBO is also dedicated to leveraging the power of storytelling as a means to build understanding and change. HBO's programs provide a stage for members of the LGBTQ community to share stories and make others feel what they feel. From groundbreaking series like Six Feet Under to documentaries like The Out List, HBO pushes the envelope on real, authentic storytelling.
Fittingly, storytelling was the theme of last week's Behind the Scenes program at HBO, where LGBTQ and allied teens from gay-straight alliance clubs across NYC met a diverse group of out professionals. Ranging from software developers to social media managers, HBO's employees had a variety of personal and professional experiences to share. And by sharing their stories and advice for success, HBO employees broadened students' minds to the world of possibilities outside high school.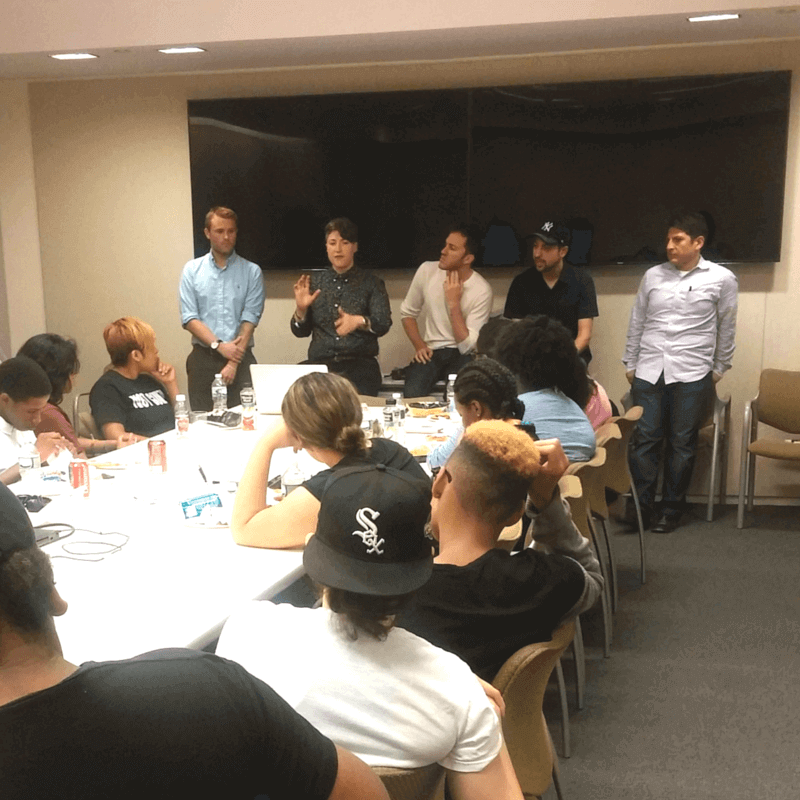 Here are five pieces of advice from HBO's openly LGBTQ employees for the next generation:
Be yourself. As LGBTQ people, just by being our authentic selves we are contributing to change as part of the greater movement towards equality. Sharing your story can have a ripple effect that causes a shift in attitudes in the community.
Don't limit your options based on your LGBTQ identity. Stick to your vision and don't let fear define your future self. At the same time, don't feel pressured to come out right away in the workplace. Coming out is always a very individual choice, and it will happen naturally when the time is right.
Surround yourself with supportive people. When you graduate high school, you will have more control than ever before over who you choose to spend your time with. Choose wisely — don't waste time with people who don't let you be yourself.
Work hard. As long as you are confident and at at the top of your game, it won't matter to employers whether you're LGBTQ. It's also helpful to know your story and express yourself clearly to give employers a picture of how you got where you are today. They will respect you for the initiative you took to create change in your own life.
Be proud to be LGBTQ! HBO employees described the many reasons they are proud to be part of the LGBTQ community: they feel empowers them to not care so much about what others think; they're connected to a rich community of artists and activists; it enables them to meet a diverse range of people they wouldn't otherwise have been exposed to; the list goes on!
Thank you to members of HBO Out for hosting an inspiring Behind the Scenes program, and especially for being role models for LGBTQ youth!